Installation and Activation On WordPress
Last Updated On 2022-11-14
Installing the WordPress Plugin is super simple, and we've made the activiation process as smooth as possible to ensure you don't waste anytime to get going! In this article, we'll be going through how to install the plugin, and how to activate.
Installing The WordPress Plugin
To begin, download the Atarim zip file. To do so, you need to login to your Dashboard. You can find the plugin download button on the Websites screen at the top, which is demonstrated in the screenshot below.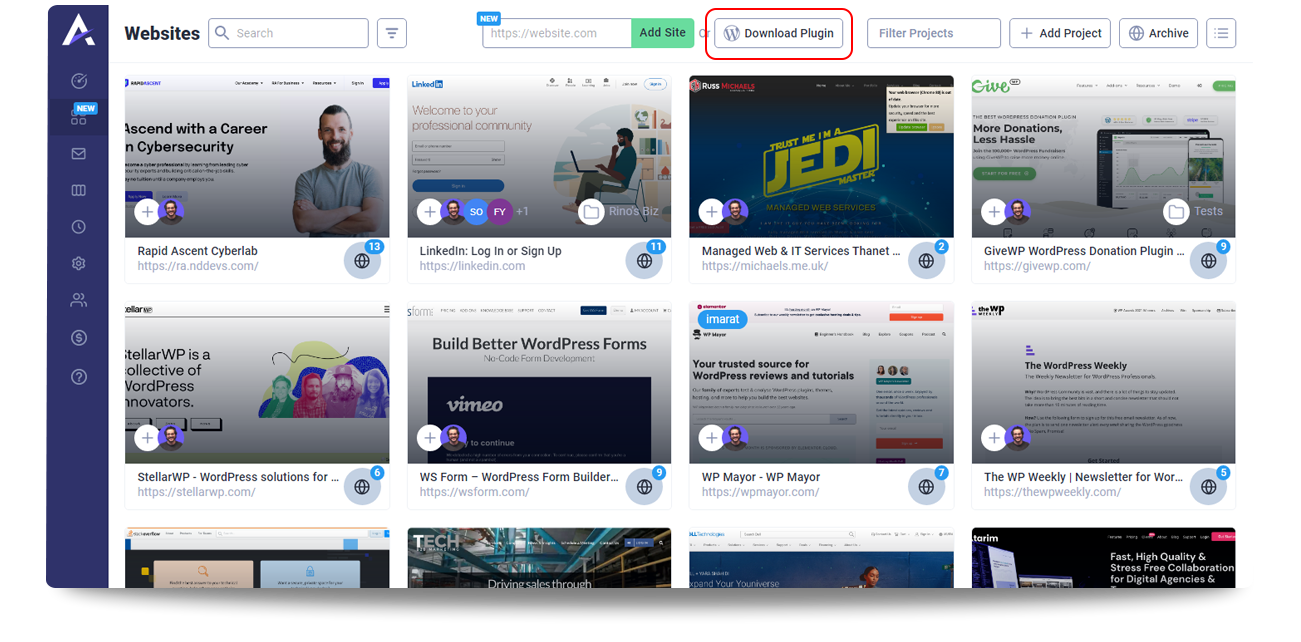 Next, log into your WordPress admin dashboard. Click the Plugins on the left side navigation menu and click on Add New.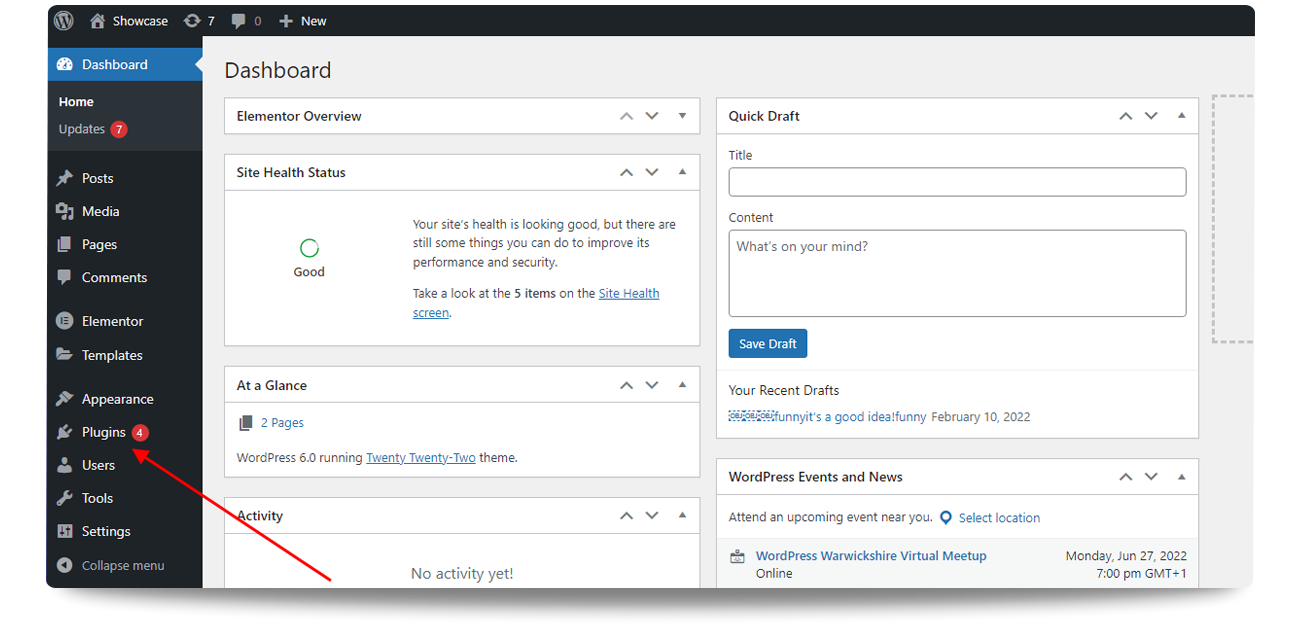 Within this page, click the Upload Plugin button at the top. Once on the upload page, click the Choose File button. Then, navigate to the zip file you previously downloaded and select it. Once the file is selected, click the Install Now button.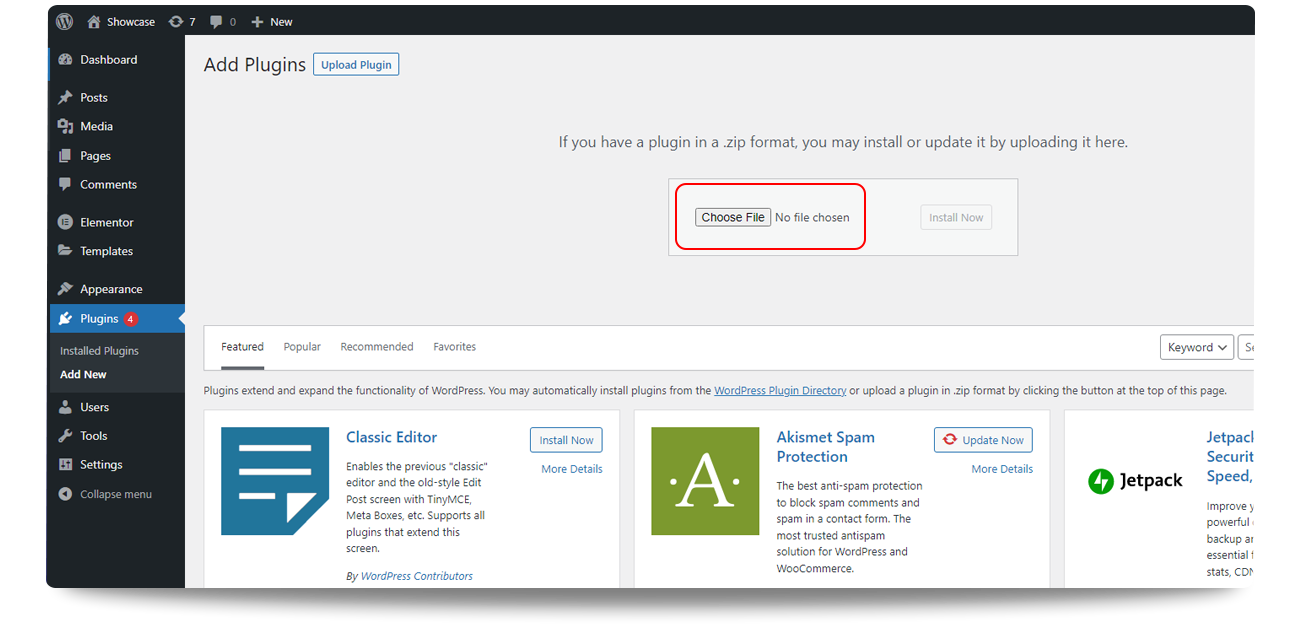 WordPress will now automatically handle the installation of Atarim. Once complete, be sure to click Activate Plugin to activate Atarim.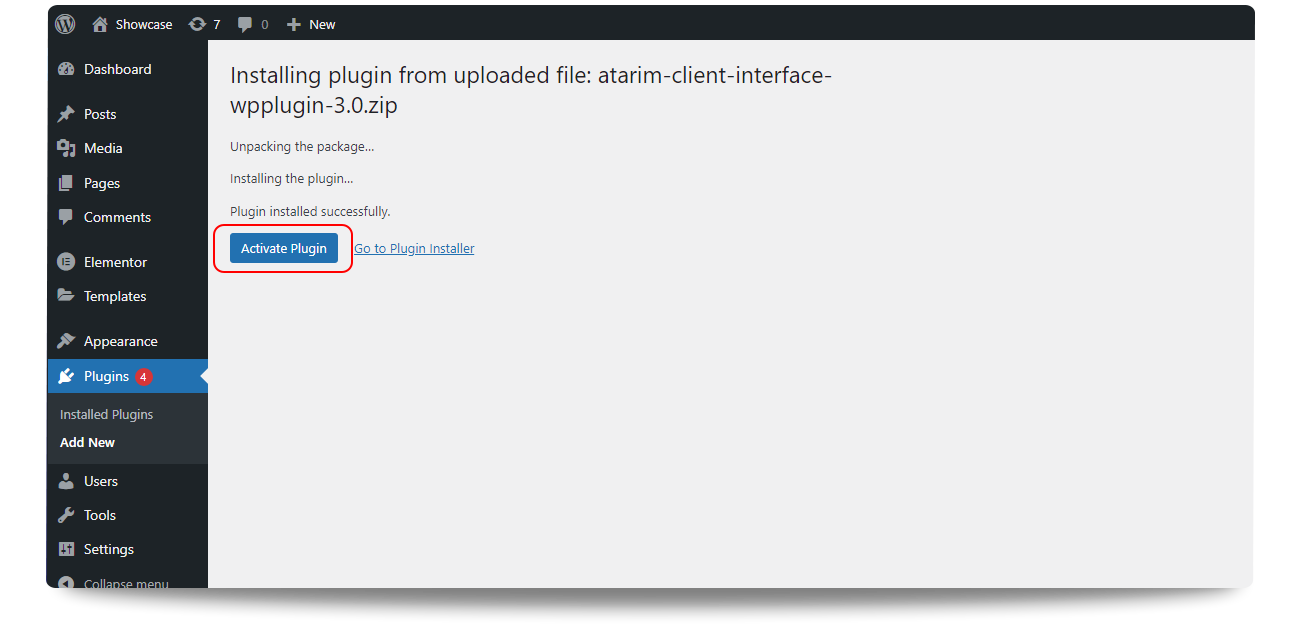 The Installation Wizard
After clicking activate, you will be navigated to a 3 step process that you have to go through to get started, it shouldn't take longer than 2 minutes. The first step is to get you activated (please note, this only happens on the very first installation, if you need to re-activate a site, you need to do so from the permissions screen).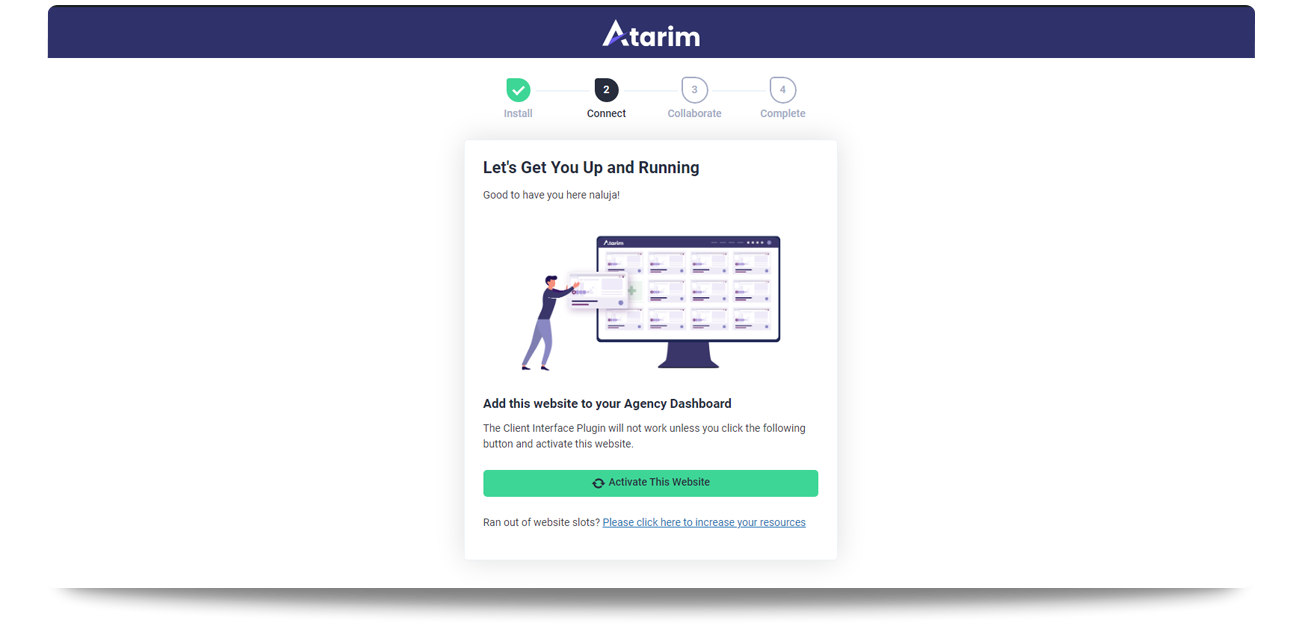 After clicking the activate button, we will need to confirm that you are logged in to the Agency Dashboard. We will then confirm that it's you and you need to click the button one more time!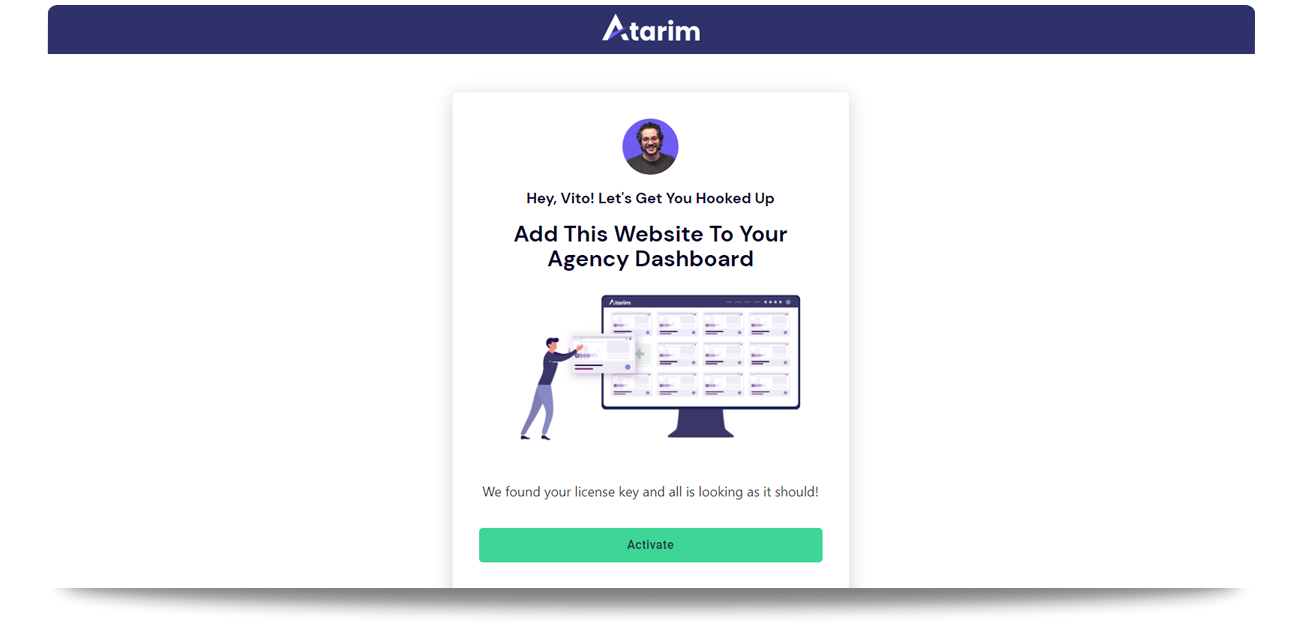 Creating or Assigning a Collaborator
Once you've got the website activated, it's time to set up your client's account inside the WordPress Plugin. Here you have two options:

– You can create a brand new WordPress account for your client through this screen, once created this will be assigned as the default client user.

– Alternatively, you can assign a WordPress account that already exists on the website.

– You also have the option to turn guest mode on, you can find more about guest mode here.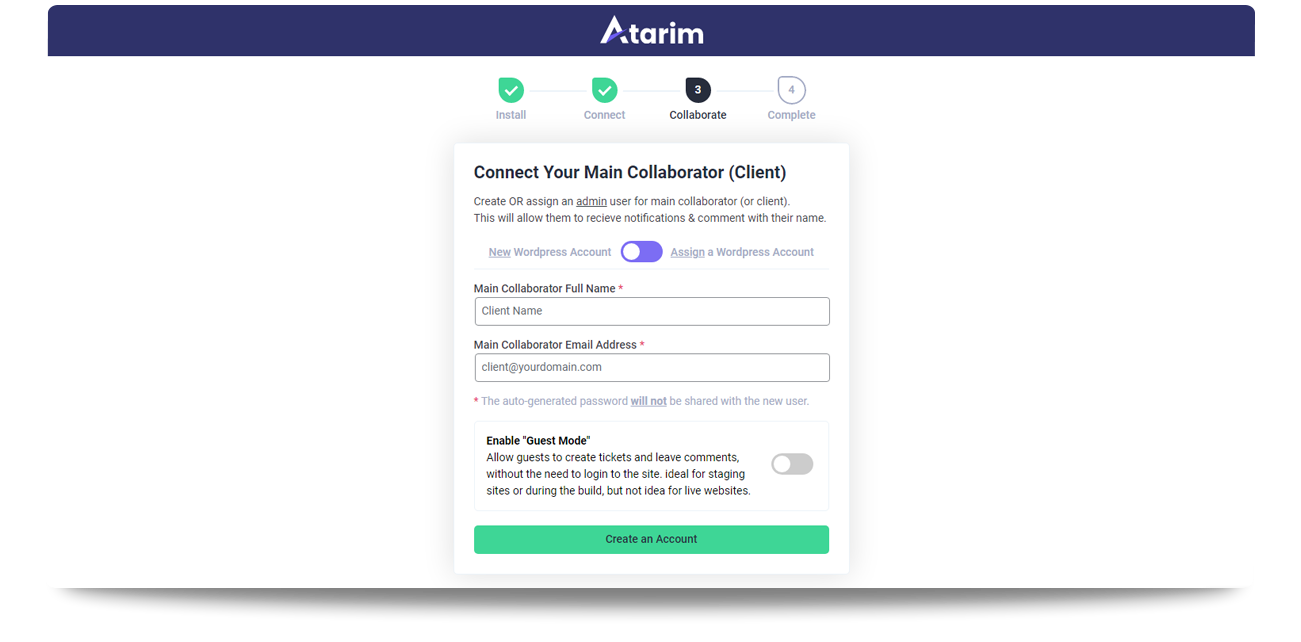 And you're done! On the last screen you'll find a quick video from our Founder introducing you to WordPress Plugin. You have two buttons you can press here:

– It's My First Time – This button will take you to the front-end and create a task for you to get started!

– I've Done This Before – This will take you to the front-end without the task creation and you're good to go!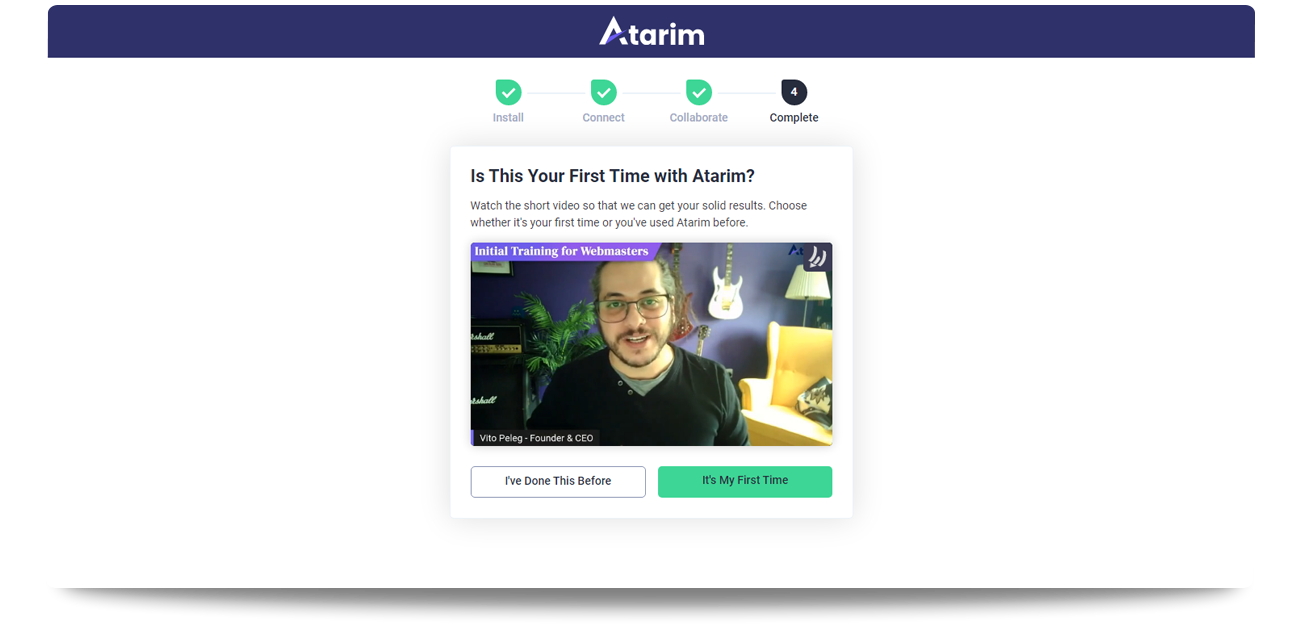 Getting Support From Us
If you are having any trouble activating the website, please contact us at support@atarim.io and we'll will make sure to get it up and running as soon as possible.
Was This Helpful?
Did this article help you accomplish what you were looking for? If yes, let us know that we nailed it! If not so much, we also want to know so that we can improve!