Last Updated On 2022-11-14
NOTE: Only available on the Atarim Expert & Agency Plans, and MainWP Pro
In this article, we'll take you through step-by-step how to connect your Atarim Dashboard and MainWP Dashboard. 
You'll be able to visually collaborate on your MainWP websites with one click, pull in tasks from Atarim to your MainWP Dashboard, display website vitals from MainWP to your Atarim Dashboard and include task information and time entries in your MainWP reports!
Getting Stared With Visual Collaboration On Your MainWP Websites
To get started with visual collaboration, all you need to do is click on the collaborate link inside your MainWP Dashboard.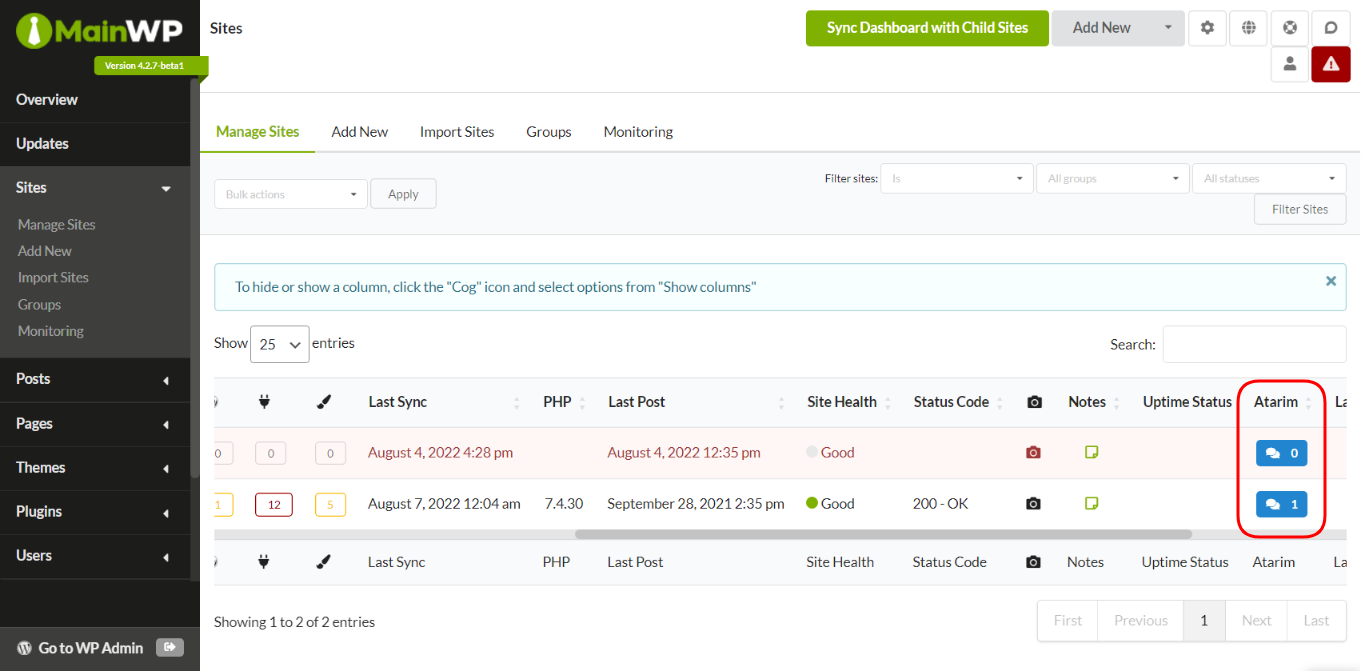 When clicked, the website will be opened inside Atarim. (To learn how to visually collaborate, you can view another article here)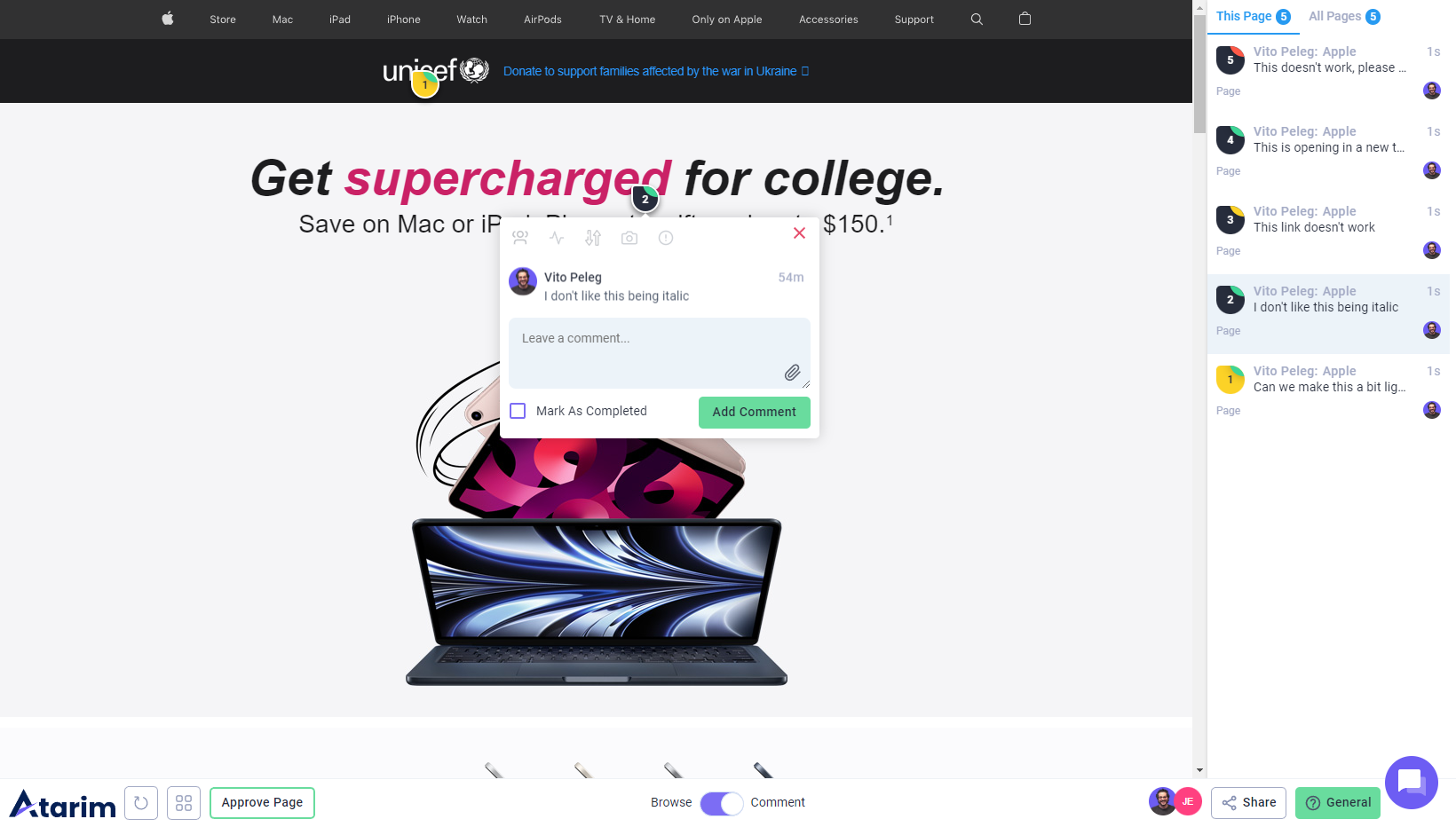 When tasks are created inside the collaborate screen, the count will show inside your MainWP Dashboard.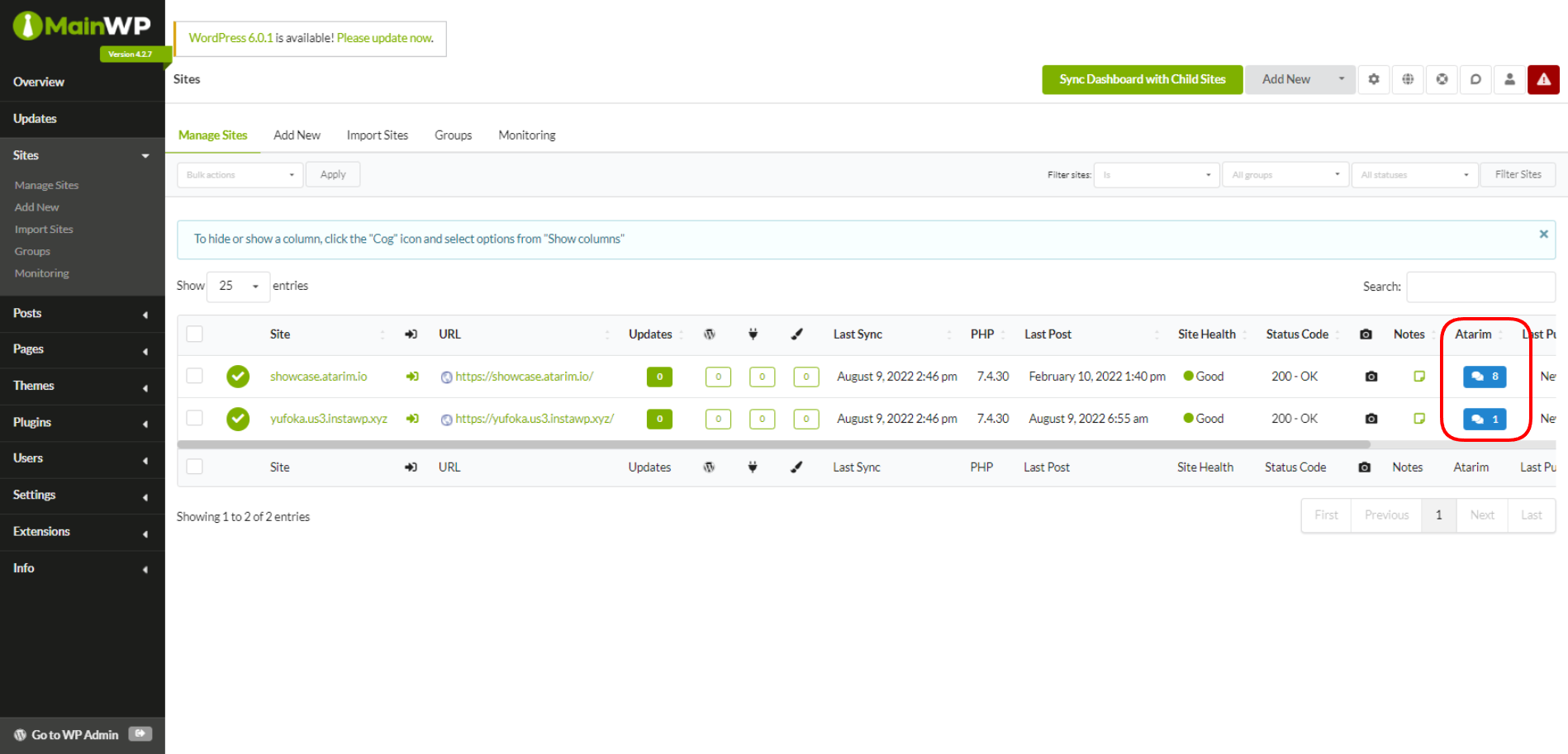 Linking Atarim To MainWP
First, you need to download the MainWP Atarim Extension, which you can find here. Once downloaded, install the extension on your MainWP Dashboard (you can find out more about how to do this here)
We need to grab the Atarim API key from your Dashboard here. Copy this to your clipboard.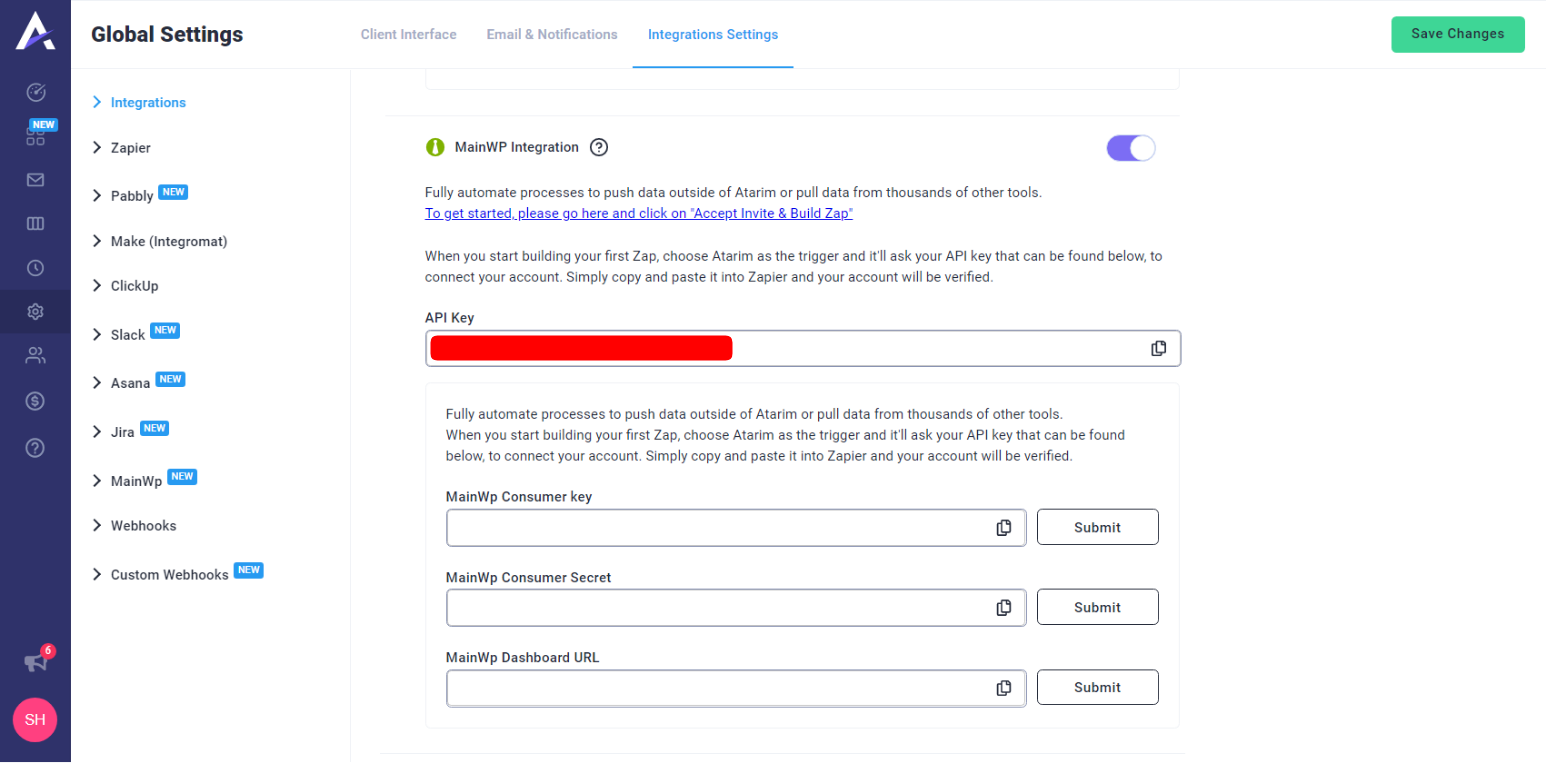 You need to then paste this API Key into the Atarim extension inside your MainWP dashboard and hit save settings.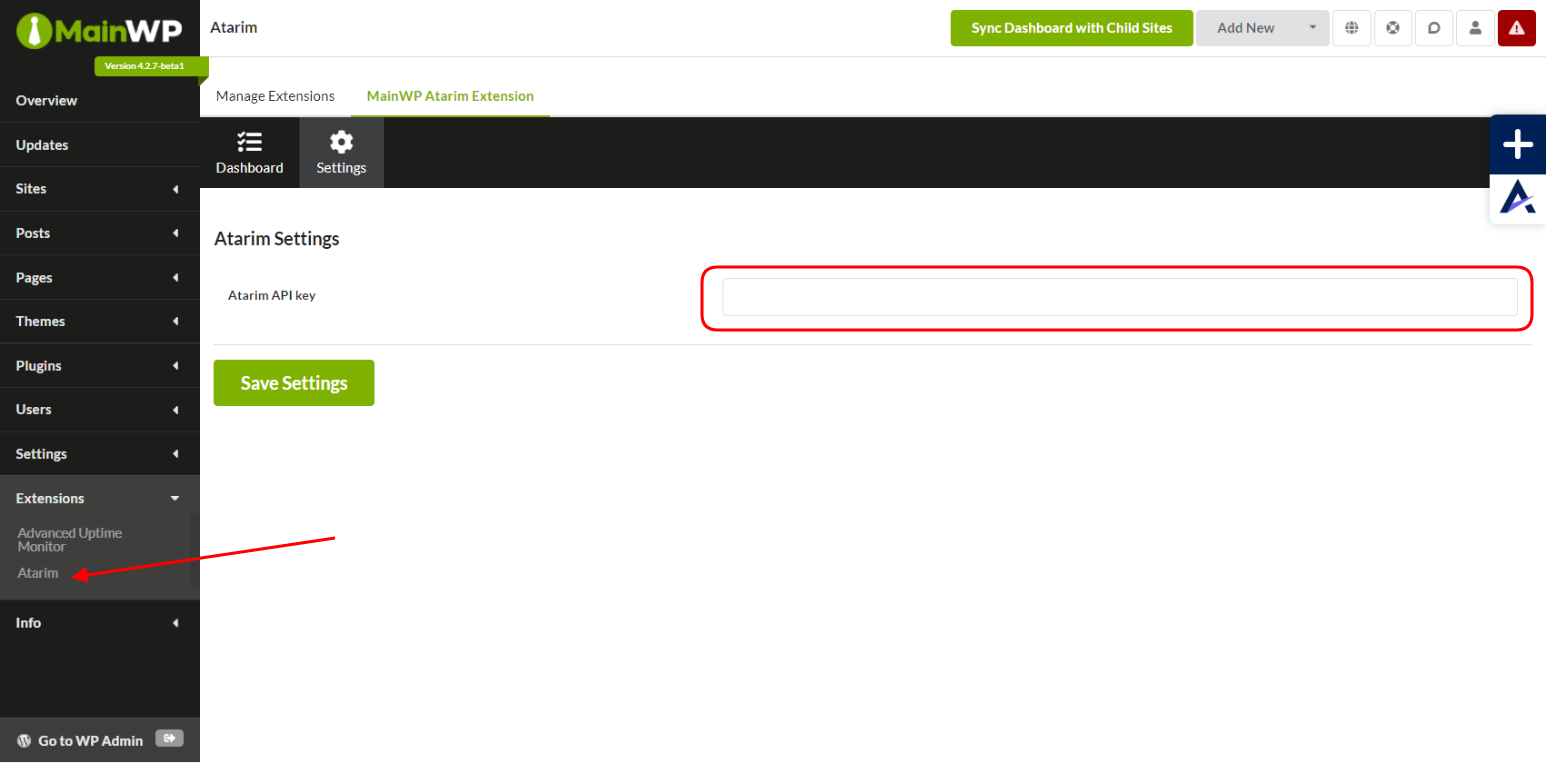 Linking MainWP To Atarim
Head over to your MainWP Dashboard and go to the REST API settings.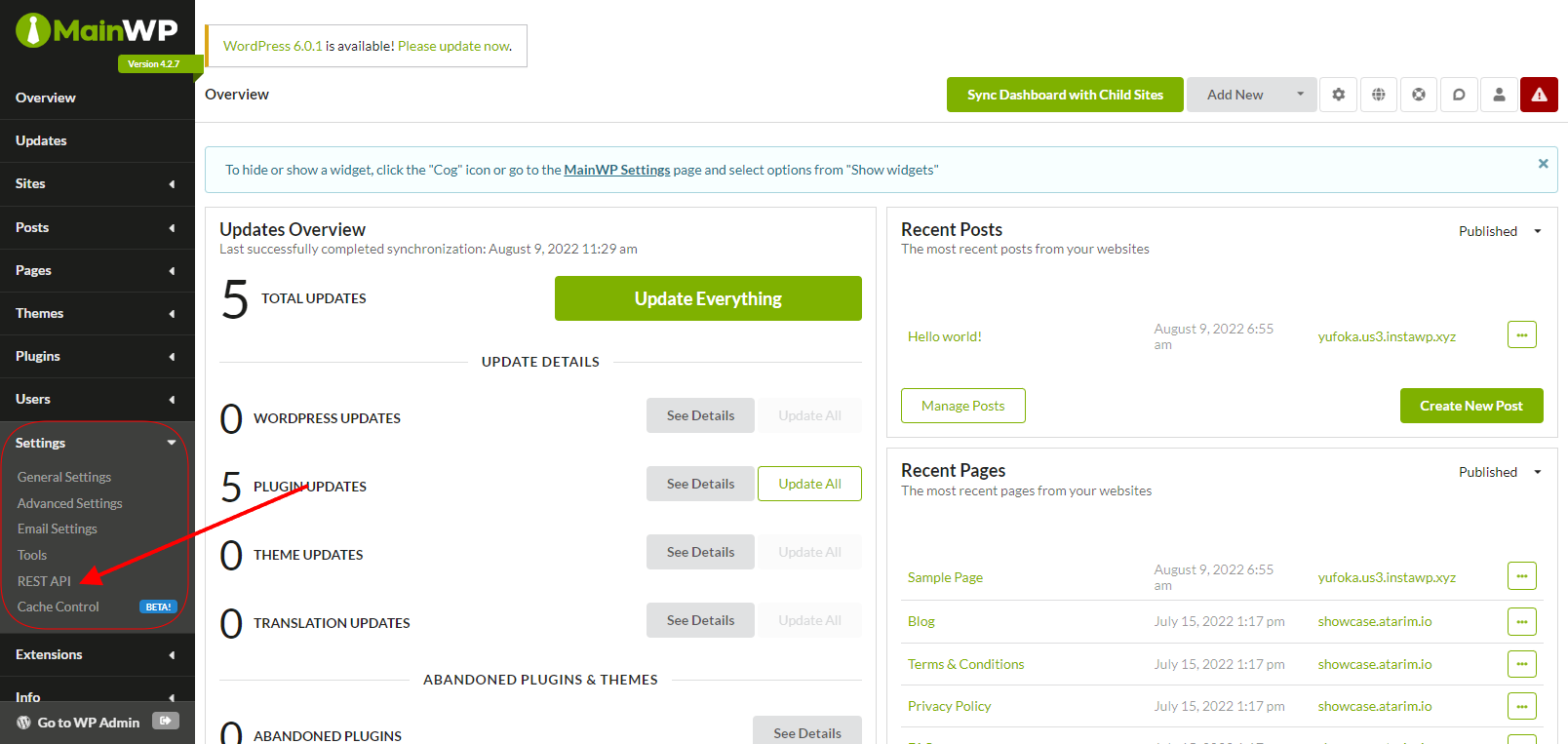 Enable the REST API, and click on the button to generate some new keys which we will be putting into your Atarim Dashboard.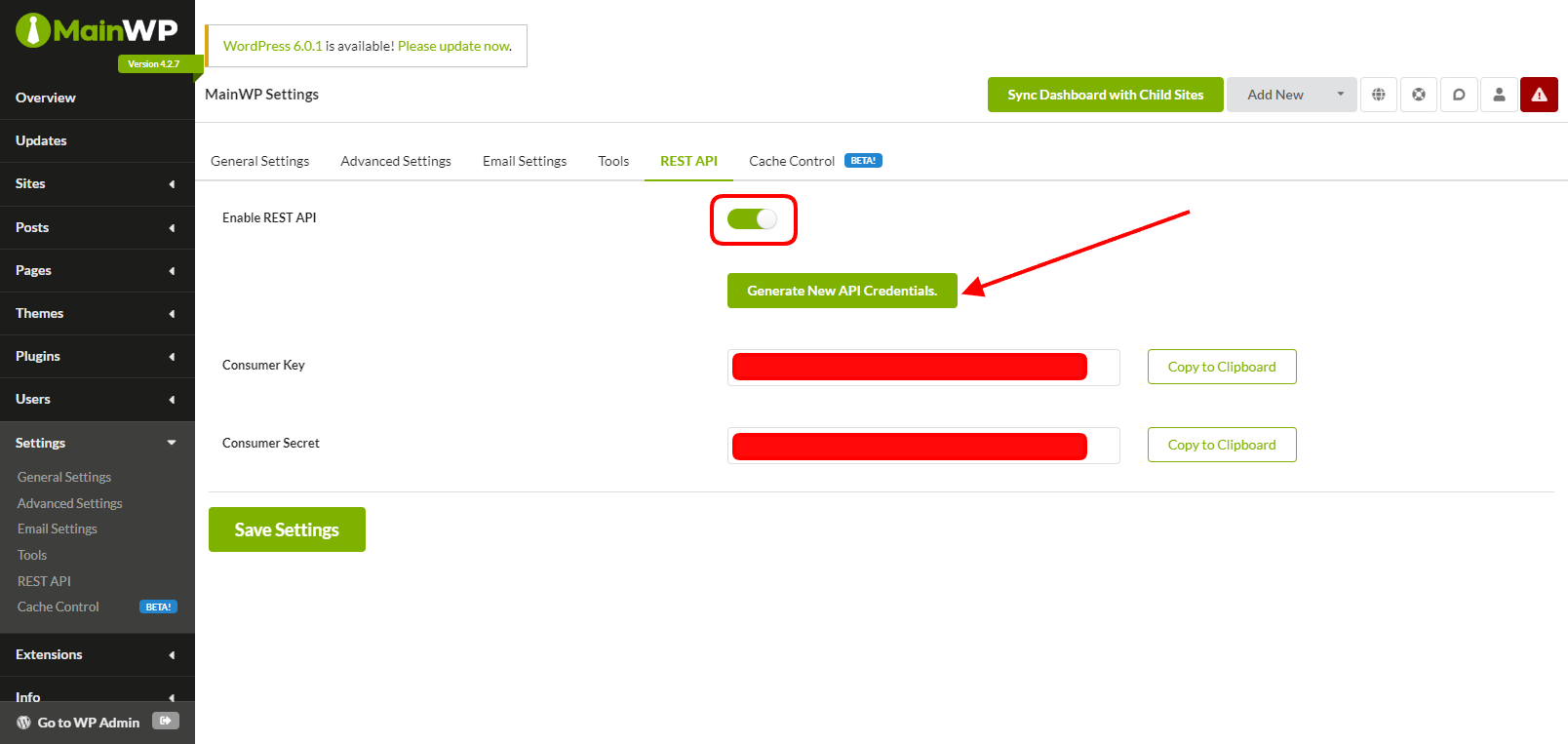 Once you've generated the keys for your MainWP Dashboard, you need to go to your integration settings inside your Atarim Dashboard.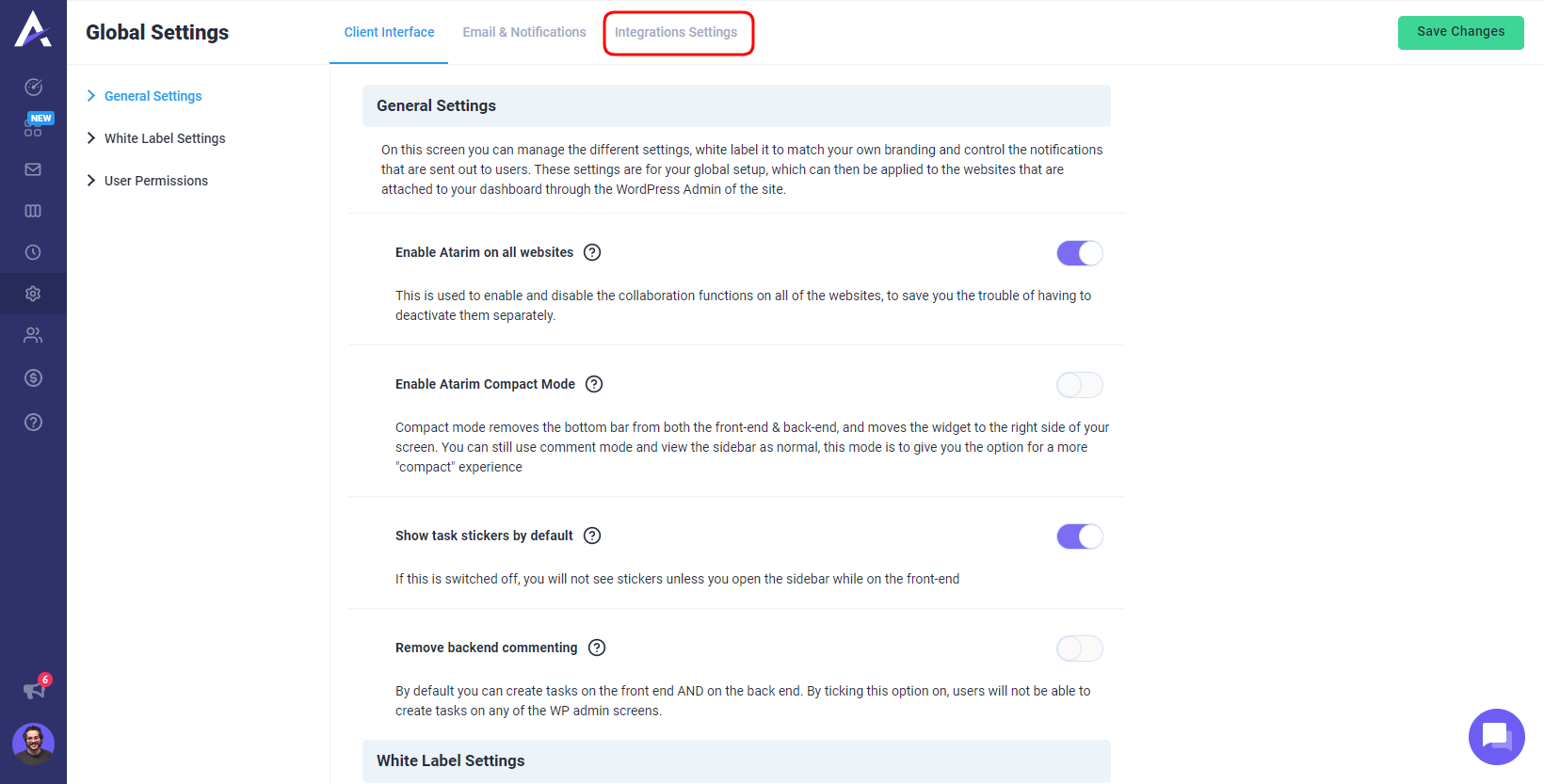 You should have already enabled the MainWP integration for the previous step, if not, ensure you have done this and downloaded the Atarim Extension. Now it's time to enter the MainWP information into your Dashboard.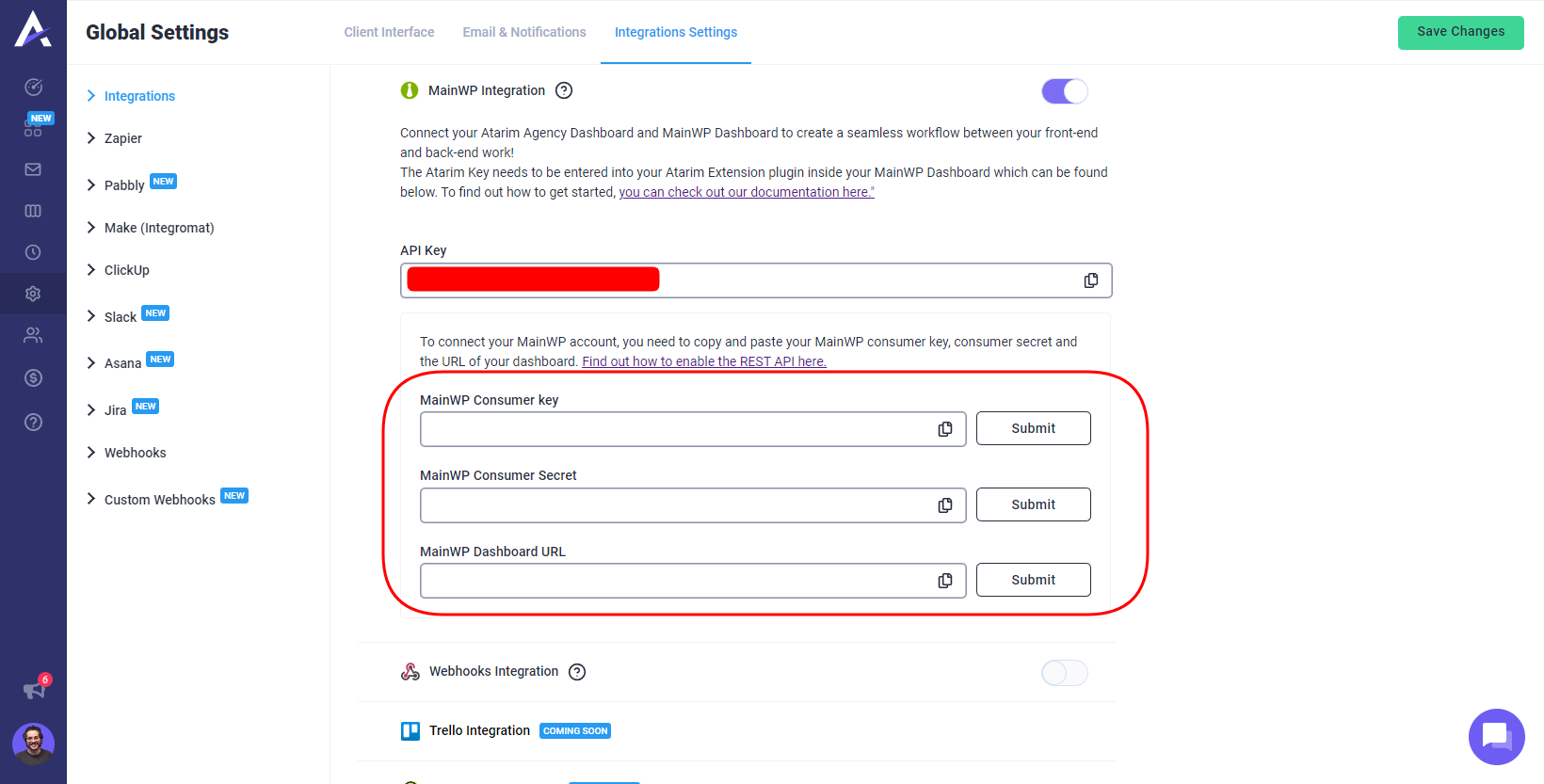 Copy the two keys into the first two fields, and put the URL of your MainWP Dashboard into the third field. Ensure you click on "Submit" for each one and then click save changes in the top right of the page.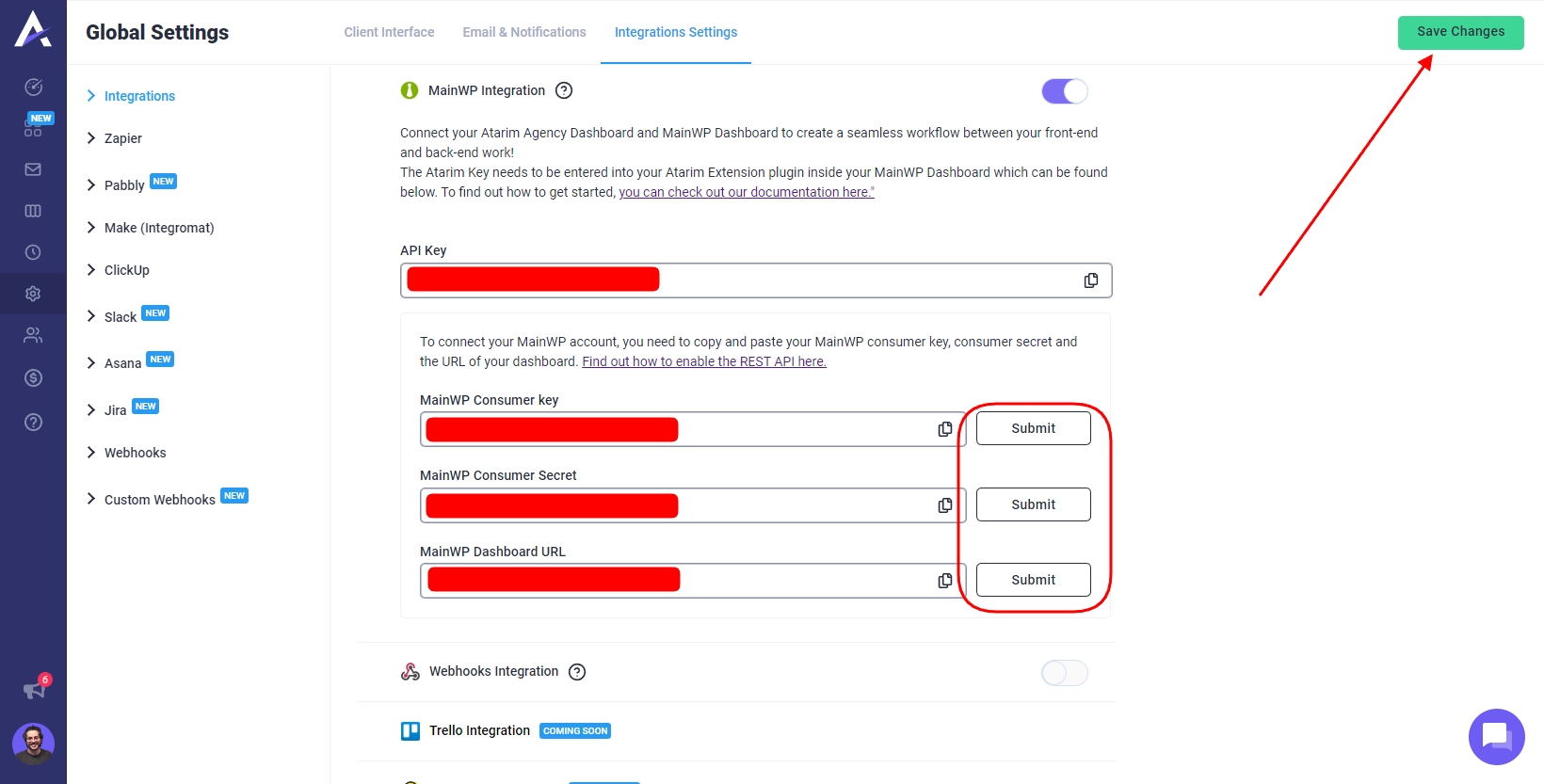 Website Vitals On Your Atarim Dashboard
Now that your MainWP Dashboard is connected to your Atarim Dashboard, any website that is on both Dashboards, Atarim will pull in information from MainWP.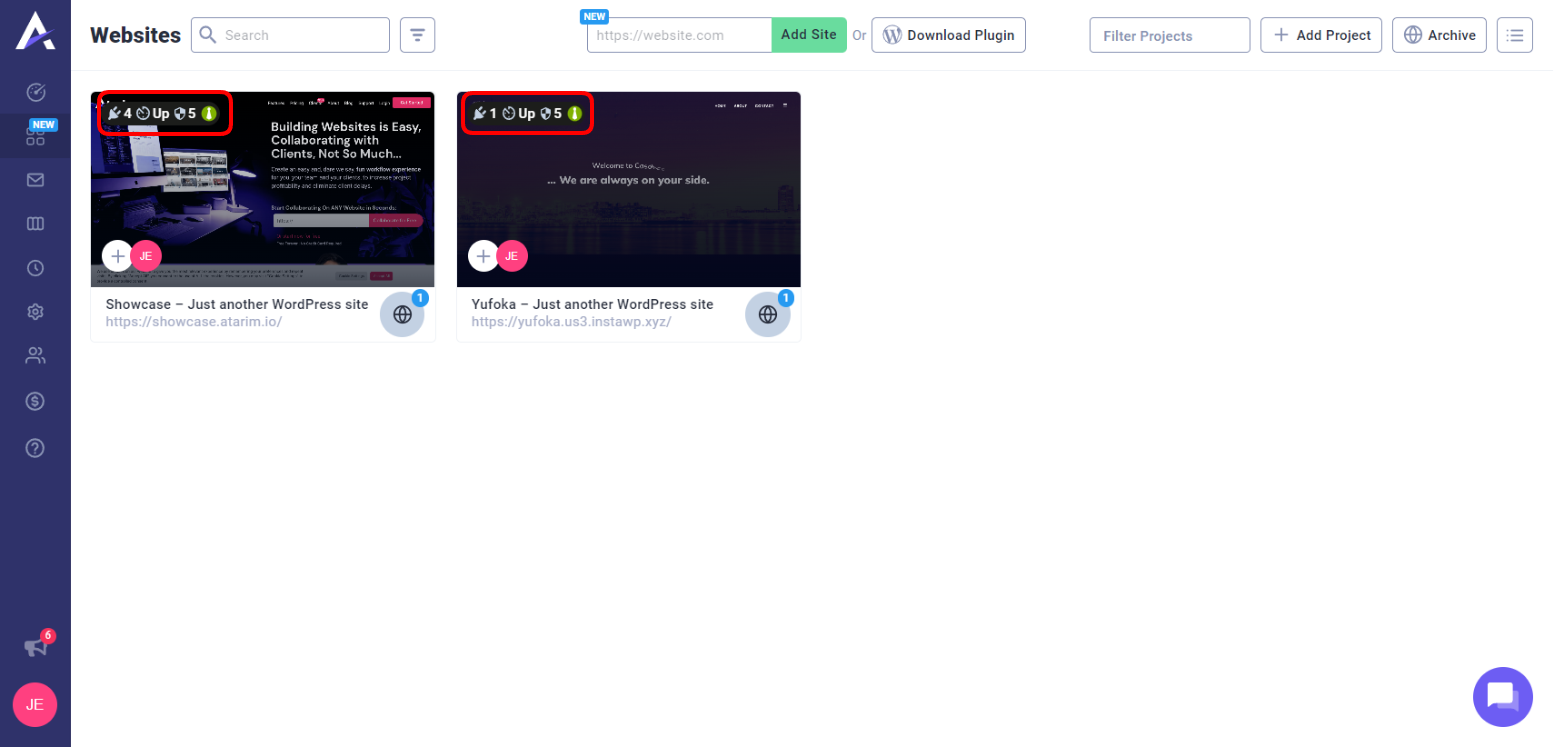 You can go straight to your MainWP Dashboard by clicking on this section on your websites inside the Atarim Dashboard.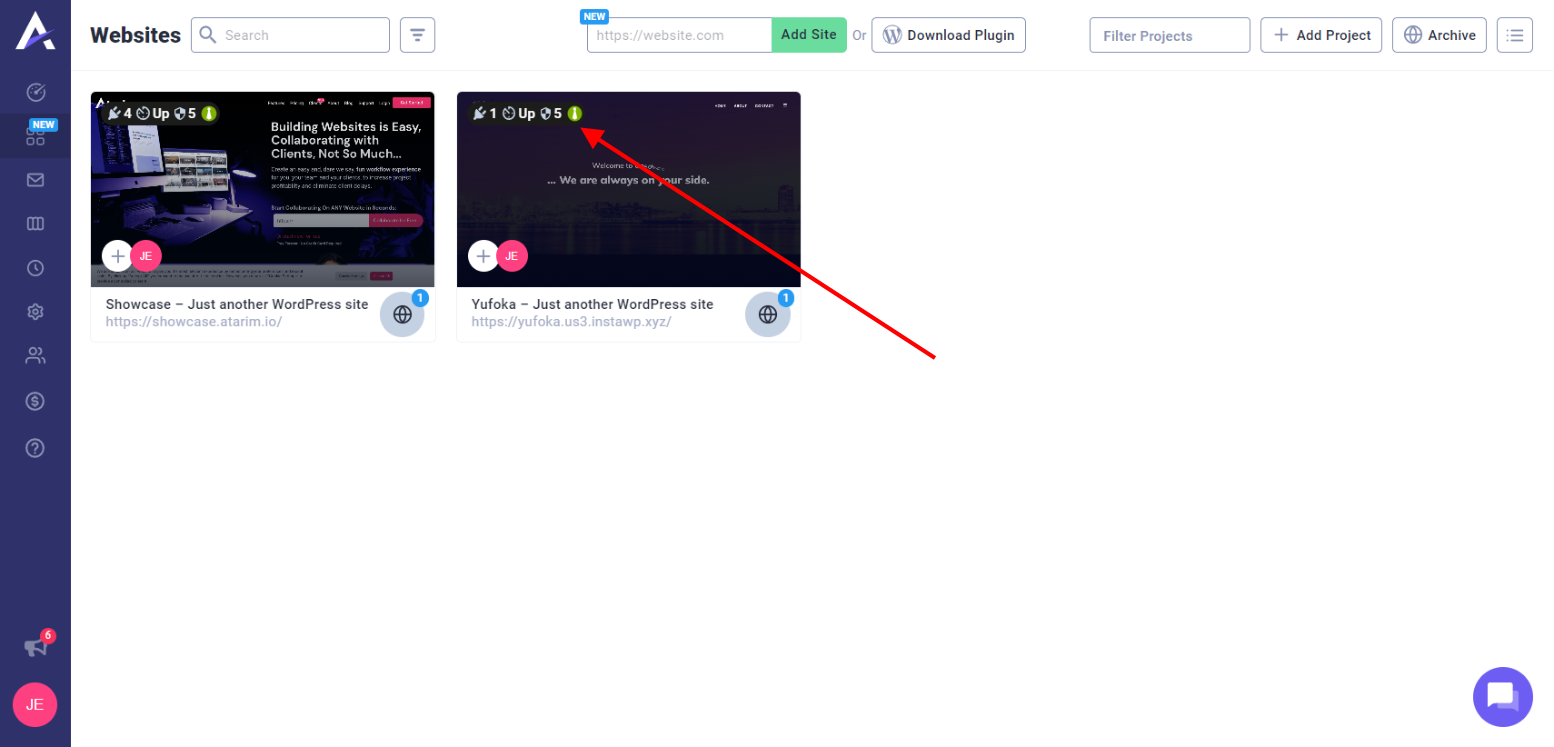 These icons display:

Updates: The amount of updates pending on plugins, themes and WordPress.
Status: Whether the site is up or down at the moment
Security: The number of security vulnerabilities the website currently has.
I'm Not Seeing The Website Vitals Inside Atarim
If everything is set up correctly and you are not seeing the website vitals on your Atarim Dashboard, you need to change the permalink setting of your MainWP Dashboard.
Head to your MainWP Dashboard, and go to the WordPress Admin. You need to go to settings, and then permalinks.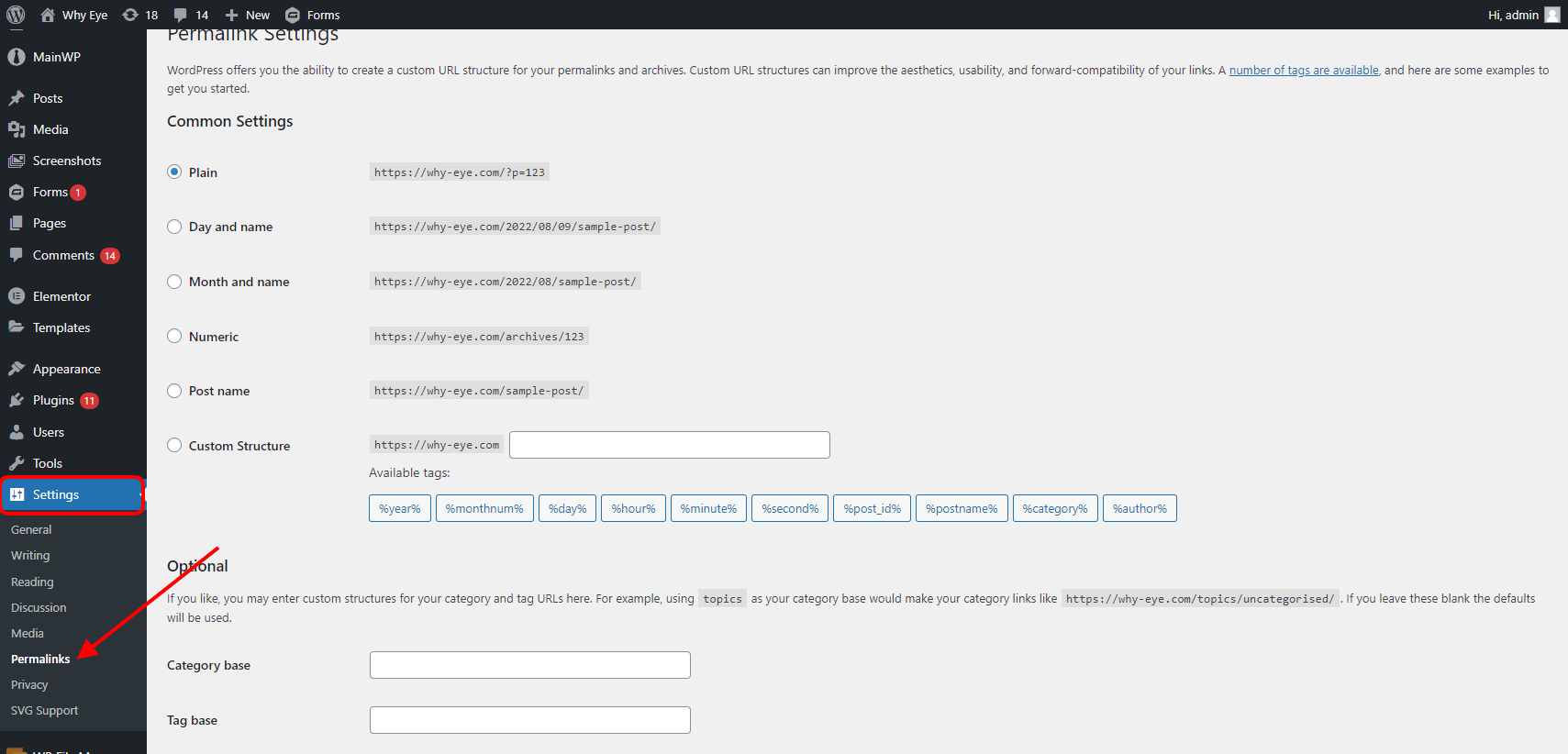 Set the permalink structure to "Post Name". This will then pull the data correctly from your MainWP Dashboard into Atarim.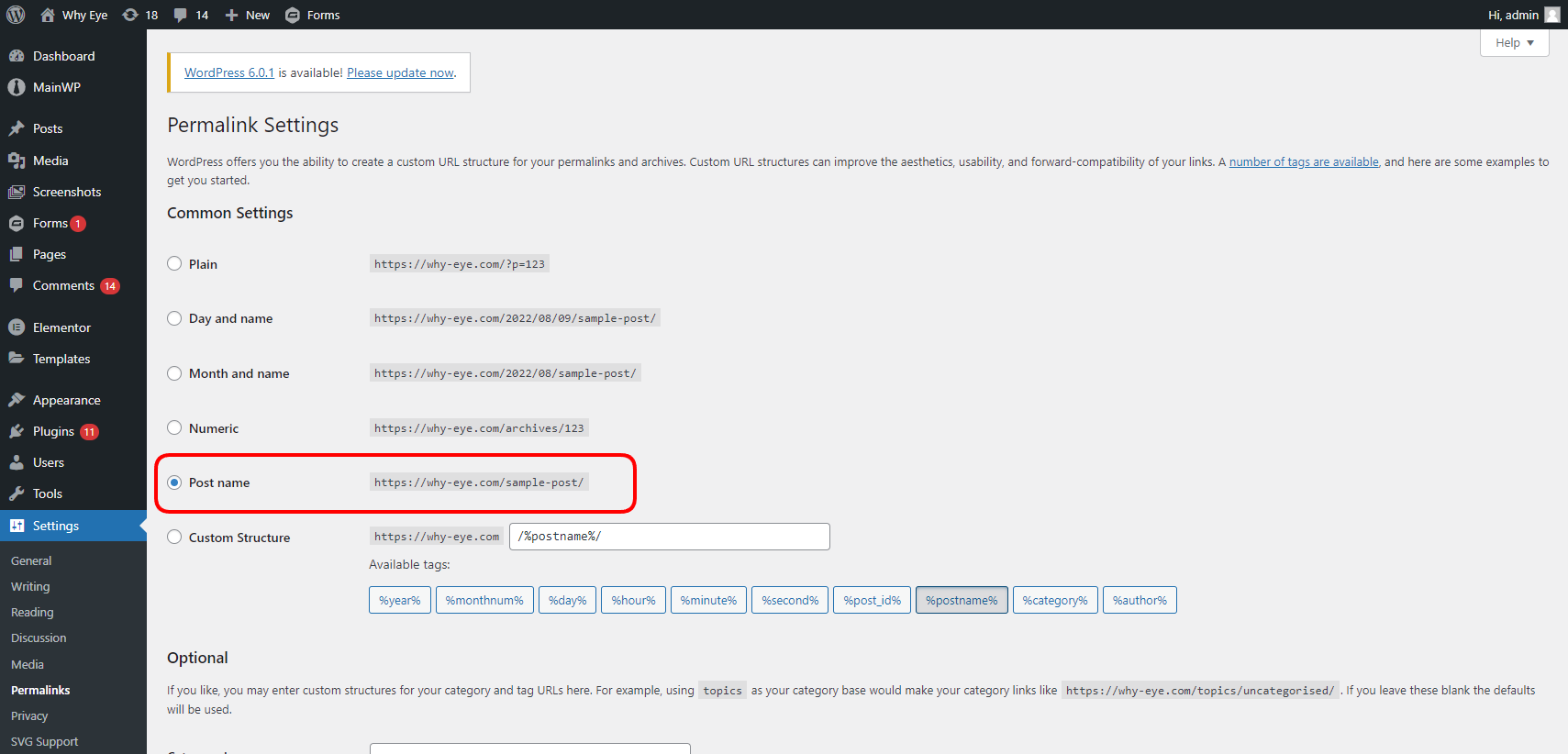 If you have done this and you still cannot see it, please contact support@atarim.io and we'll get you sorted asap!
Syncing The Status Of Your Websites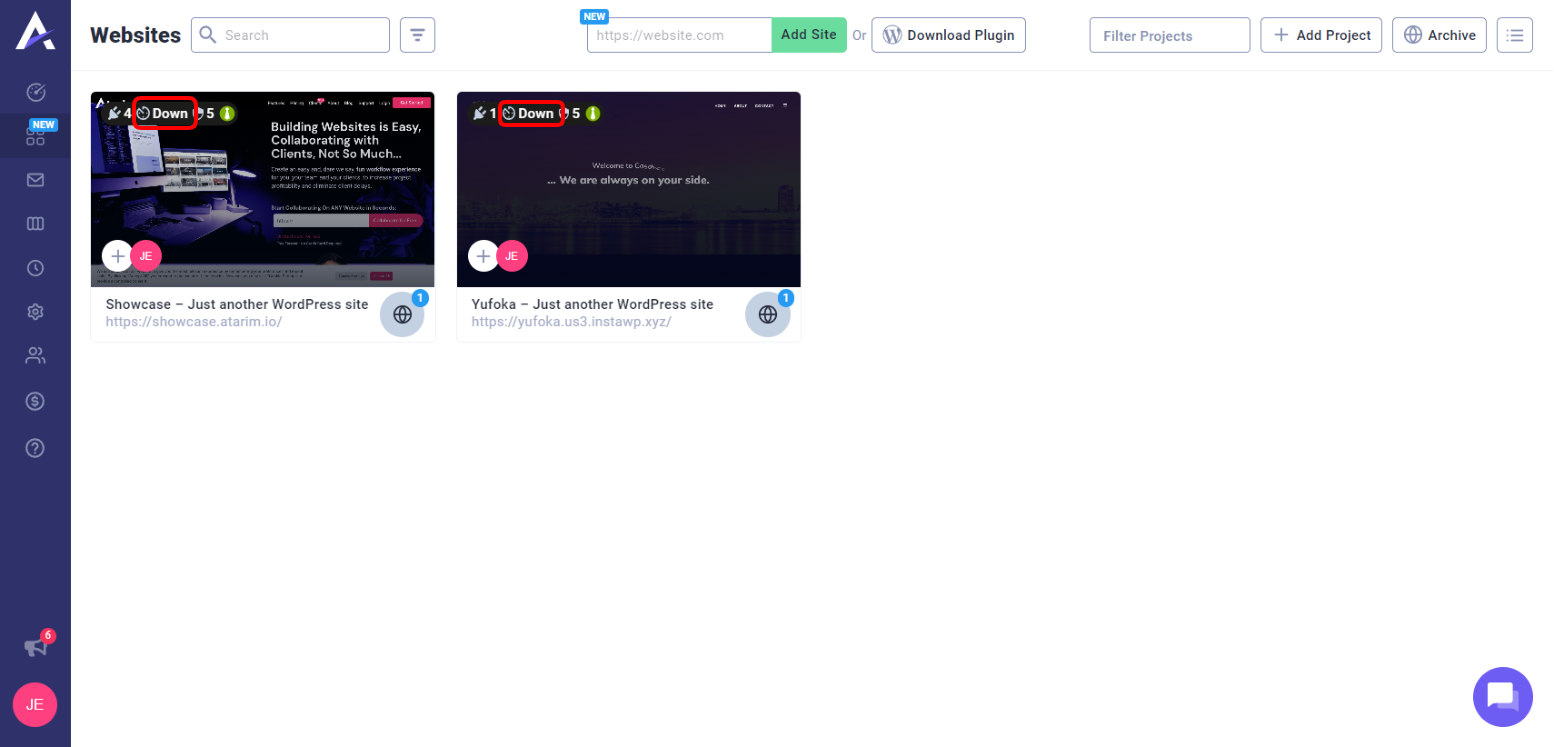 Go to your MainWP Dashboard and go to click on "sites", then "monitoring".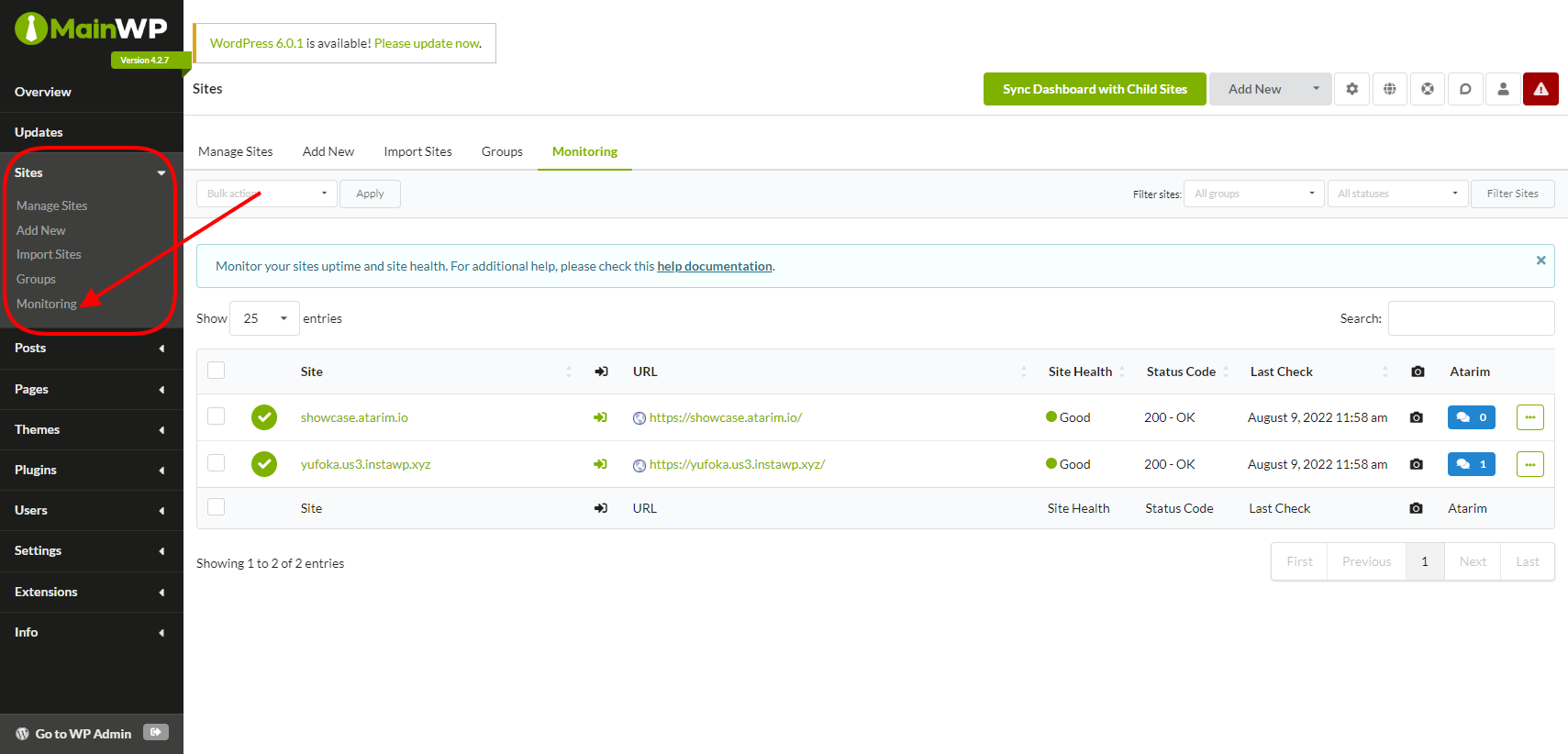 Highlight all of your websites, then click on bulk actions and choose "Check now", then click Apply.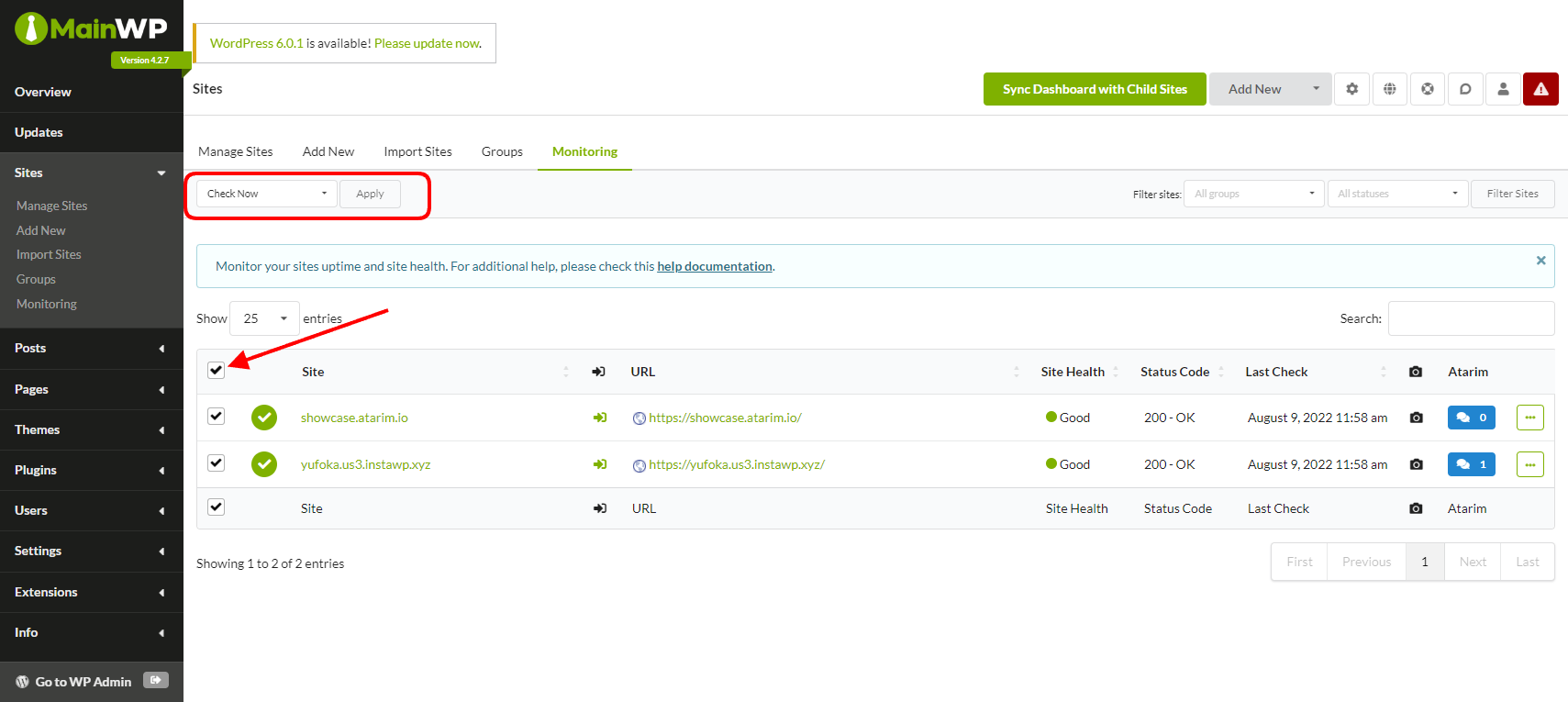 This will update the status code, which will be pulled into your Atarim Dashboard on the websites screen.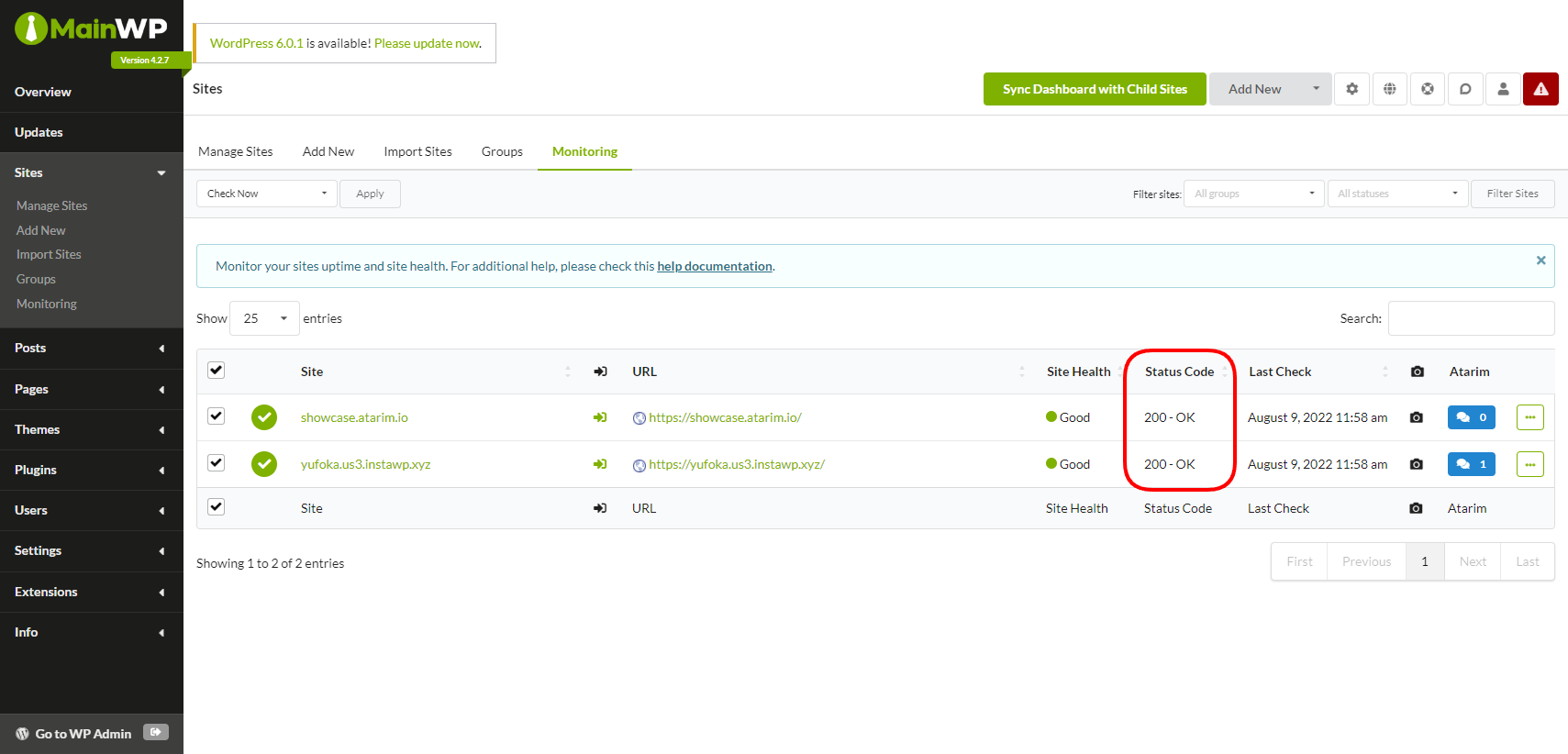 Viewing Tasks From Atarim Inside MainWP
Tasks created inside your MainWP websites on Atarim, will be pulled into your MainWP Dashboard. Inside your websites screen, scroll to the right to see the Atarim column.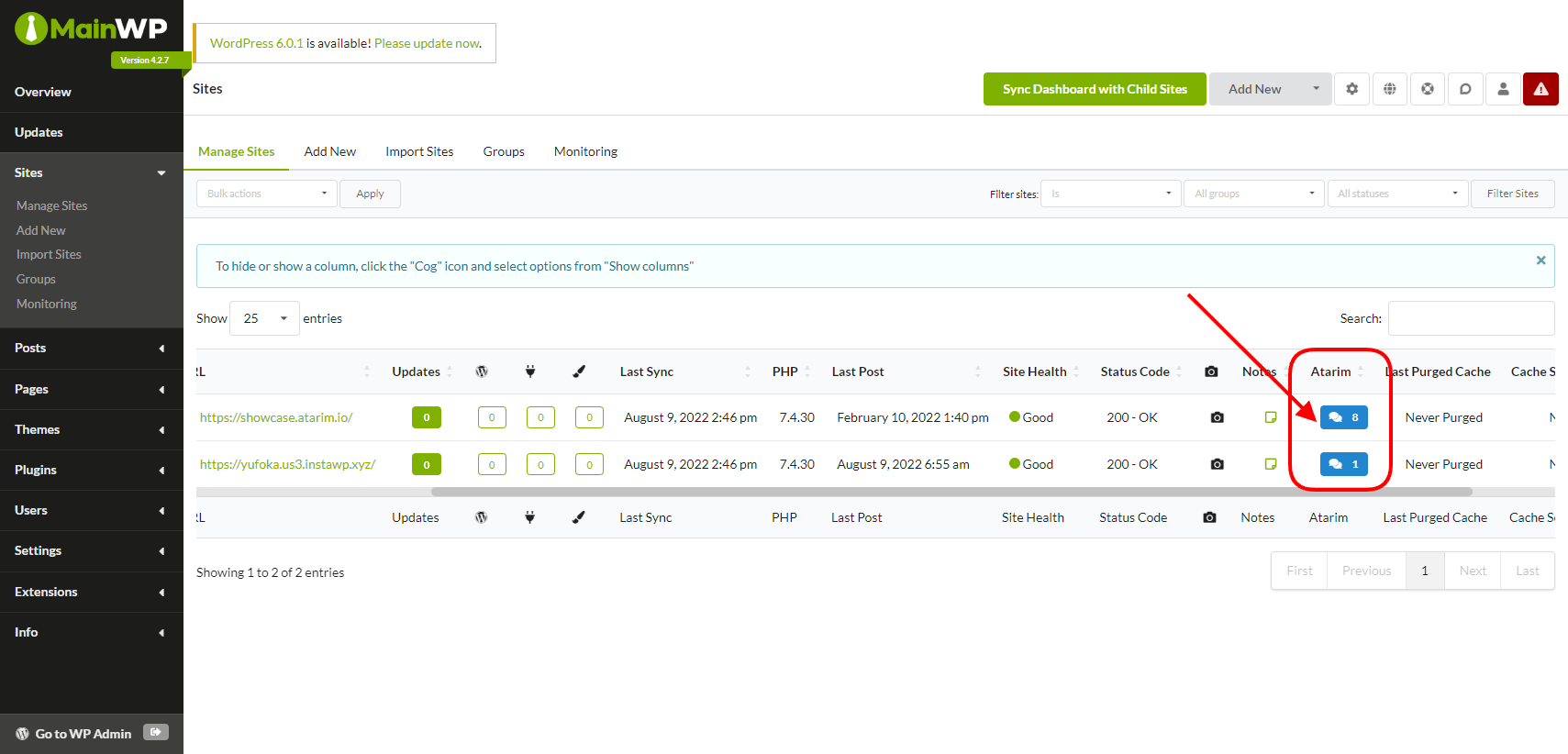 By clicking here, you'll see a full list of all tasks that are on each website.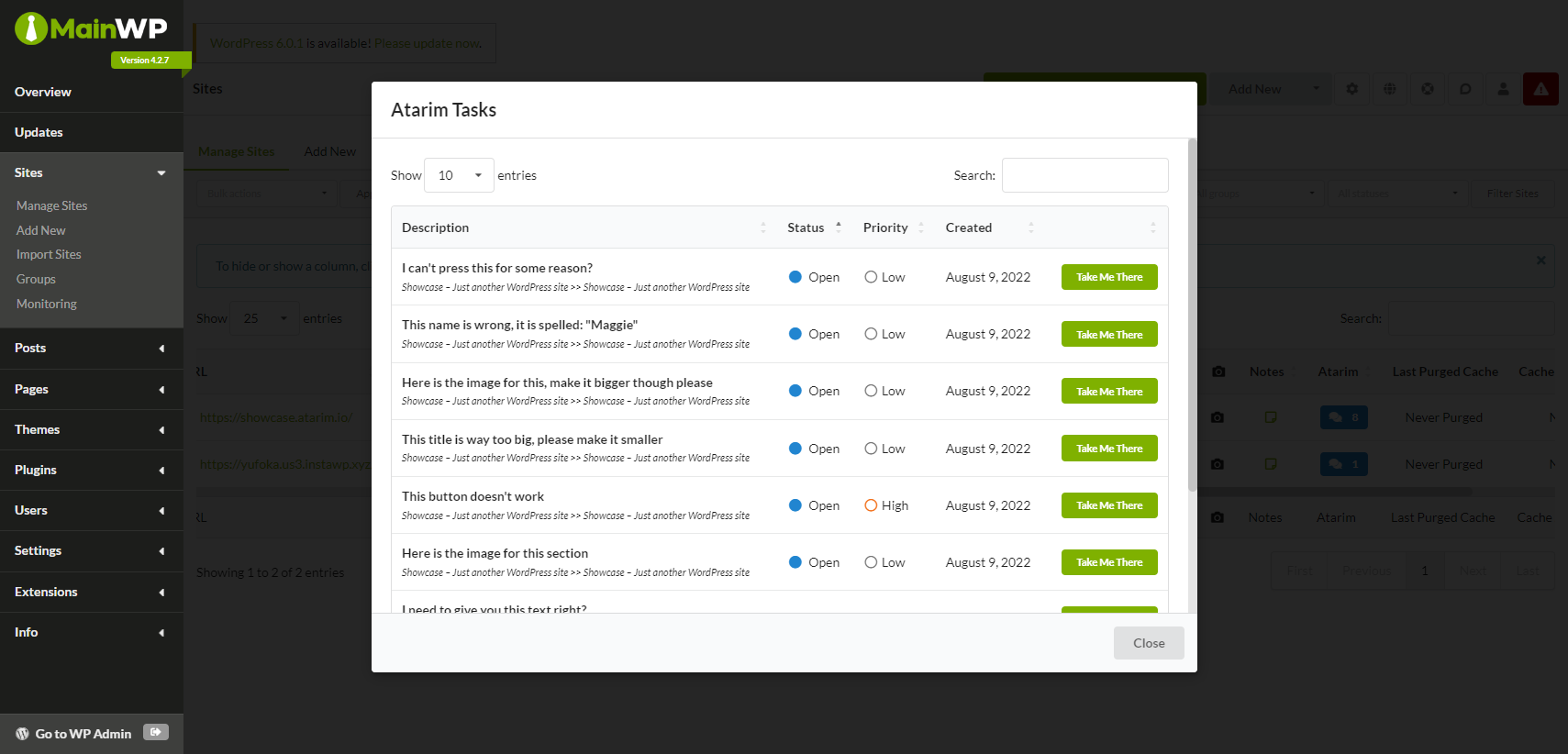 Clicking on "Take Me There", will open a tab and take you to your inbox inside the Atarim Dashboard, and display this particular task so you can get straight to work!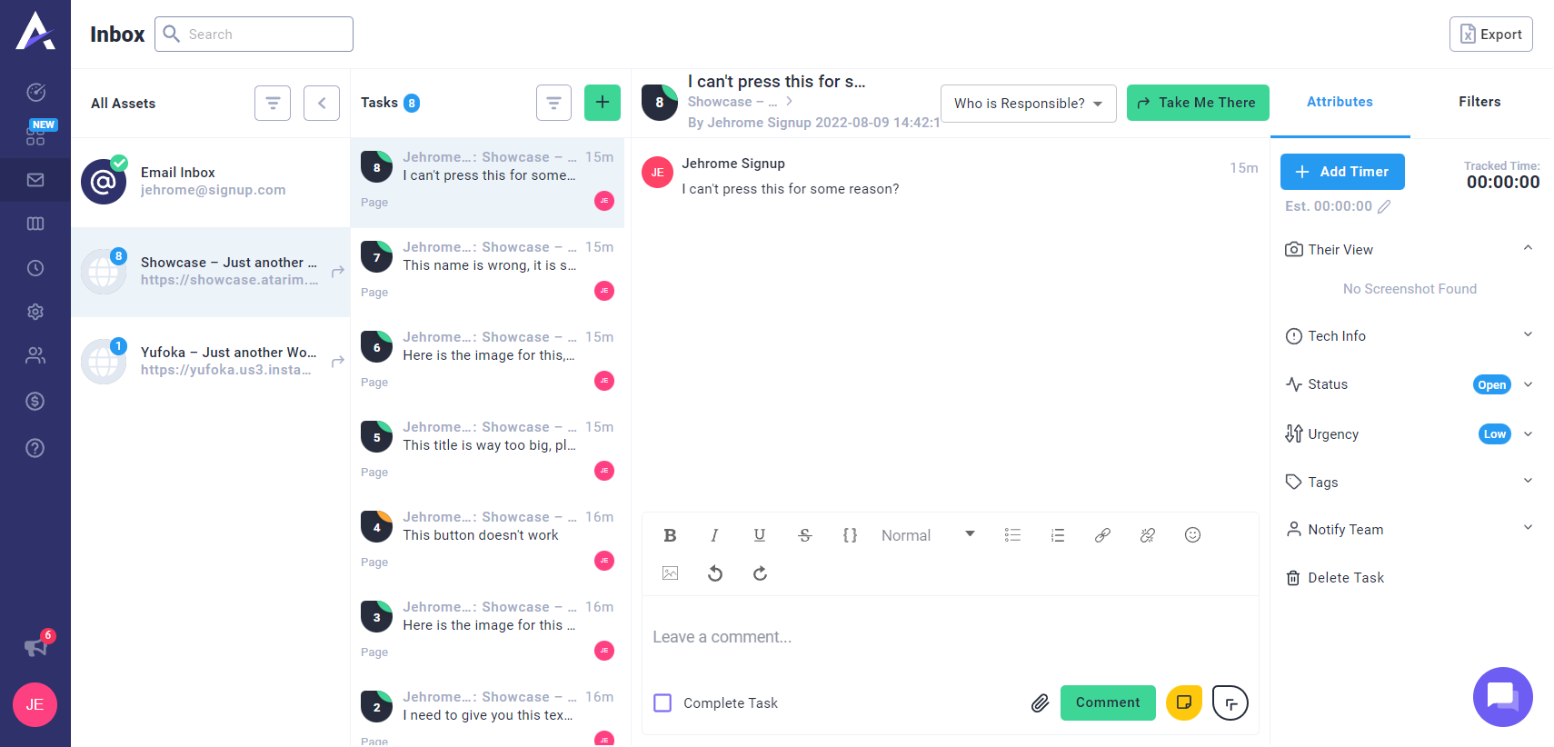 You can also see your tasks inside the Atarim extension that is installed on your MainWP Dashboard.
By clicking the icons here, instead of showing you a task list, this will take you directly to the collaborate screen of this website!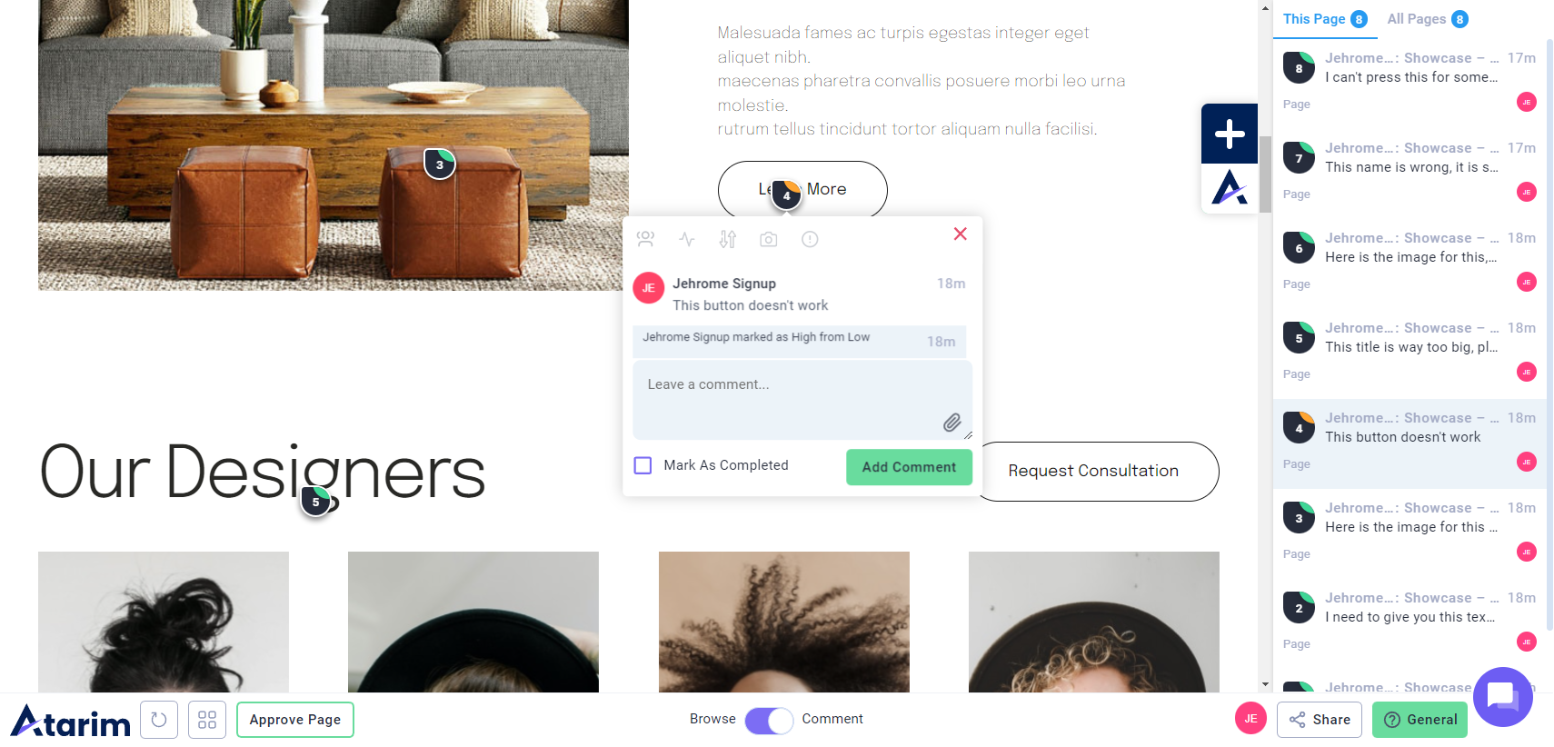 You can also see a full list of all tasks across your network of websites inside the "Overview" screen of your MainWP Dashboard.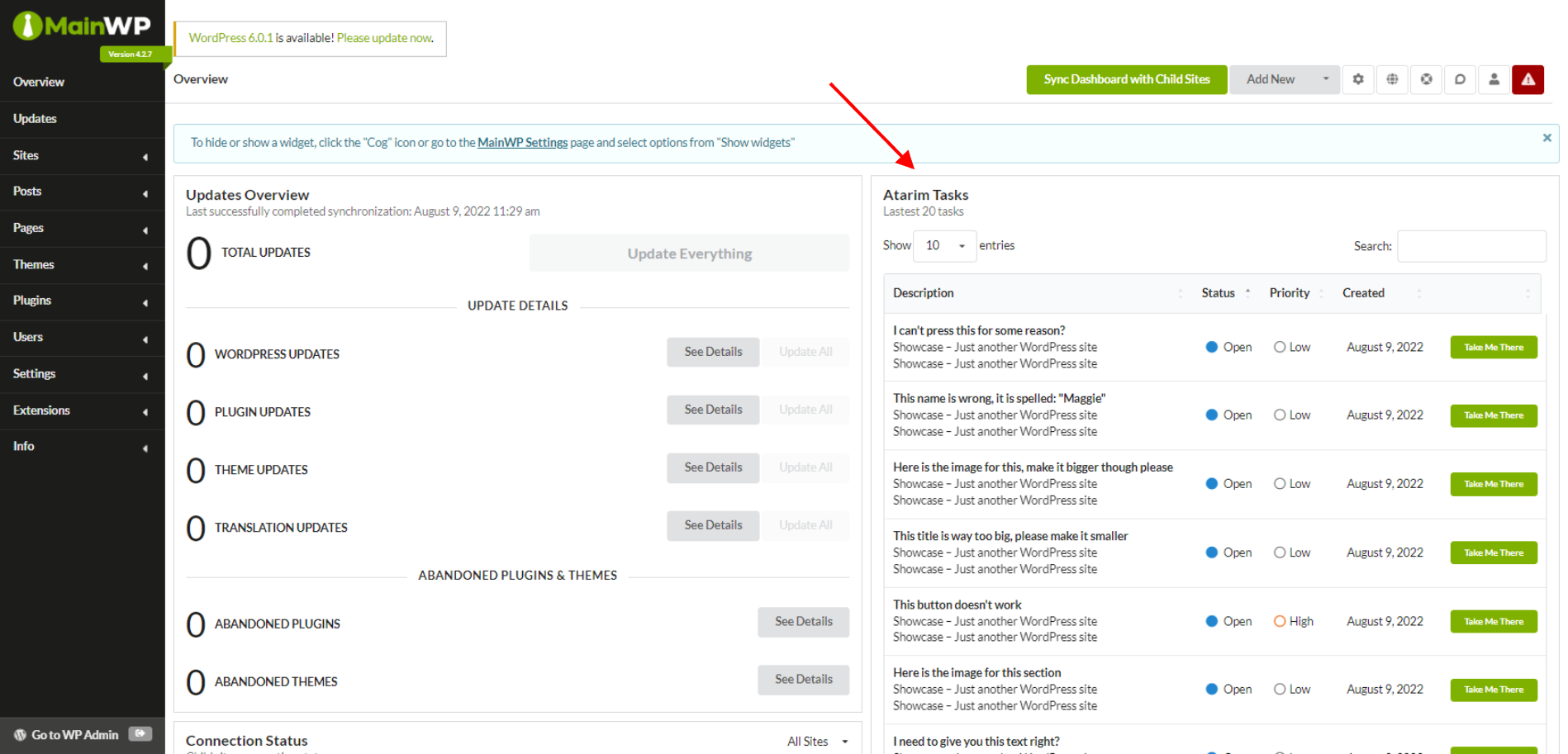 Getting Support From Us
If you are having trouble getting your MainWP and Atarim Dashboards connected, please do not hestitate to reach out to us by emailing support@atarim.io, or shooting us a message in the live chat in the bottom right hand of your Dashboard on all pages!
Was This Helpful?
Did this article help you accomplish what you were looking for? If yes, let us know that we nailed it! If not so much, we also want to know so that we can improve!